---
Emergency use permissions
---
Patient Information Sheets
---
People with underlying conditions
Most people with underlying medical conditions can receive COVID-19 vaccines, including people with:
If you have any further questions about getting a COVID-19 vaccine, you should speak to your health care provider for advice. Tell your vaccine provider about all your allergies and health conditions.
---
Vaccine side effects
Side effects are a normal reaction after receiving a vaccine. Mild side effects such as muscle pain at the injection site, fatigue and even fever are common. This is a sign that the vaccine is working in your body. But not everyone experiences side effects and that's not a big deal either. Learn more about CDC side effects.
Serious side effects from the COVID-19 vaccine, although rare, are known to occur. If you have health problems after vaccination, report them to Vaccine Adverse Event Reporting (VAERS).
See a doctor if you think you or your child has any of these symptoms within a week of getting the COVID-19 vaccination. Contact your healthcare provider if you have any questions.
Symptoms include:
chest pain
Shortness of breath
Feeling of having a fast, fluttering, or pounding heart
The most serious side effects include:
Myocarditis and pericarditis
GBS (Guillain-Barré Syndrome)
Thrombocytopenia Syndrome (TTS)
---
Vaccine Safety and Surveillance
Learn more about how the United States ensures COVID-19 vaccines are safe for the American public:
https://www.cdc.gov/coronavirus/2019-ncov/vaccines/safety.html
COVID-19 vaccines were developed using science that has been around for decades.
COVID-19 vaccines are safe – much safer than getting COVID-19.
COVID 19 vaccines are effective in preventing severe illness from COVID-19 and limiting the spread of the virus that causes it.
Millions of people in the United States have received COVID-19 vaccines in the most intense security surveillance in US history.
Can I get vaccinated?
Vaccine ingredients and allergy information (7.30.21) | Spanish
COVID-19 Vaccine Safety Monitoring Systems for Pregnant Women
Find out how the CDC monitors the safety of COVID-19 vaccination in pregnant women.
V-SAFE Vaccine Safety Monitoring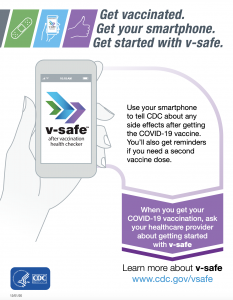 (V-SAFE) Your Post-Vaccine Health Checker – Use your smartphone to tell the CDC how you're feeling after your COVID-19 vaccination and personalized health checkups to make sure you're doing well.
Vaccine Adverse Event Reporting System (VAERS)
VAERS is the national system that collects reports of adverse events occurring after vaccination.
How to report adverse events to VAERS:
There are two ways to submit a report to VAERS:
Option 1:
Submit a VAERS report online (preferred)
The online VAERS report must be completed and submitted during the same session; it cannot be saved and edited later.
To note: sessions expire after 20 minutes of inactivity; no information is recorded.
Option 2:
Download a writable PDF form and upload it when ready
The writable PDF form can be downloaded and completed electronically at your own pace. When you are ready, return to the VAERS Writable PDF web page (use the link above) and follow 2nd step instructions for downloading the form.
More information on reporting an adverse event to VAERS. If you need additional help, please email [email protected] or call 1-800-822-7967.
More information about VAERS
---
Important links
---
Find my vaccine
Find your COVID-19 vaccine
Get more COVID data
For more data on Delaware COVID cases, tests and results, including demographic breakdowns, go to My Healthy Community