[ad_1]
There isn't much cuter in this world than dogs except for children, but putting the two together makes for all kinds of adorableness. That's exactly what Cody and Marie Lucas found while on the hunt to rescue a dog from an animal shelter. They knew they wanted a dog and had visited several animal shelters in search of the perfect puppy to adopt. When they arrived at Richmond Animal Care and Control in Virginia, they noticed something different about the kennels that kept dogs for adoption.
There were hand-drawn pictures and colorful notes attached to the kennels. On the kennel of a 5-year-old American Staffordshire terrier named Duquesa, the note read "I'm cute and I have short hair. I can cuddle and bark. Please adopt me. The note was written in a child's handwriting. There was another note on Duquesa's kennel written in Spanish that read "Yo necesito to be adopted." Yo necesito food and agua. Please adopt me. Marie said that after reading the letters and looking at the dog's sweet face "how could I not love him?"
---
Looking around the shelter, the Lucases found notes attached to the kennels of other dogs that had health issues and dogs that might be considered undesirable by adopters. The notes were all written by children around 8 years old and from the perspective of the dog looking for a forever home. The doodles that accompanied the sweet stories added to the dog appeal.
Cody and Marie Lucas with Bonnie.
Richmond Animal Care and Control
The couple decided to take Duquesa, renamed Bonnie, home after reading the letter. The pup had been at the shelter for over a month and was struggling to find a home due to his lameness. There are approximately 170 animals at the shelter and they stay there until adopted in most cases, unless they are deemed too sick to be rehabilitated. Most pets are adopted within three weeks, except for those who may have health issues or other issues that make them less desirable, which is where those cute notes come in.
The letters were part of a class project coordinated by Kensey Jones, a second-grade teacher at St. Michael's Episcopal School in Richmond. Jones has been a volunteer at the shelter for four years. She also has three rescue dogs, so it's safe to say that this project was close to her heart. Jones wanted to find a way to help dogs less likely to be adopted find their forever families.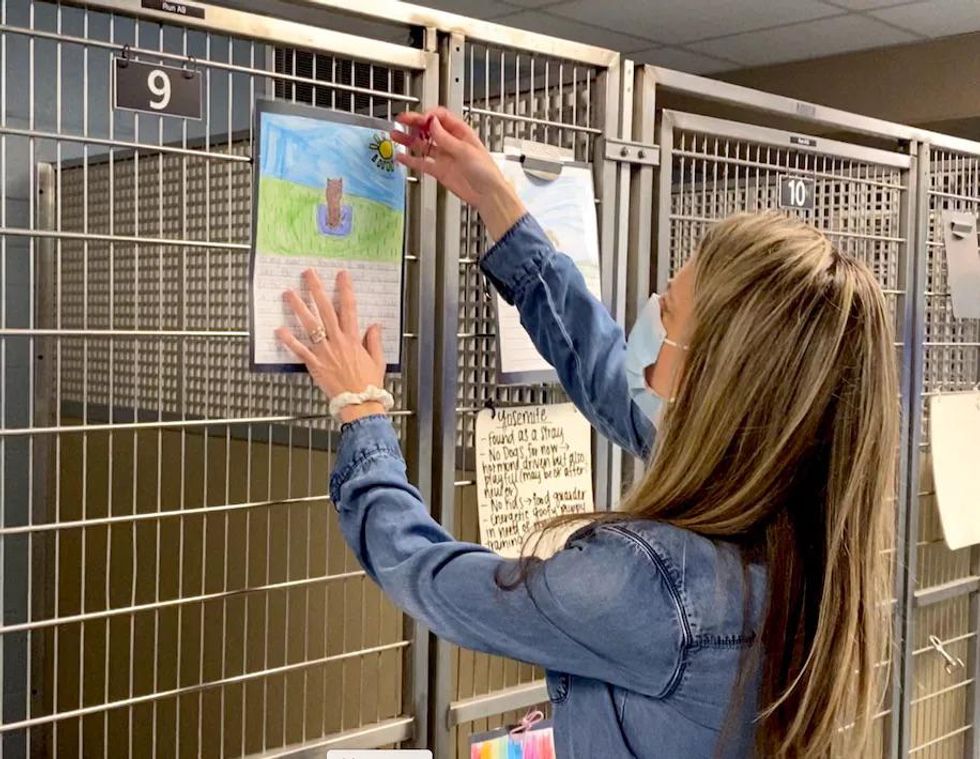 Christie Peters hangs letters on available dog kennels.
Richmond Animal Care and Control
Jones said The Washington Post, "The idea came to me to connect persuasive writing with these adoptable animals that need forever homes." She thought it would be "a way to make their writing real for [the students]and impact the world and our community of Richmond, in particular.
The director of the shelter, Christie Peters, has a son who is in Jones' second grade class. So when Jones approached her with the idea, Peters enthusiastically accepted.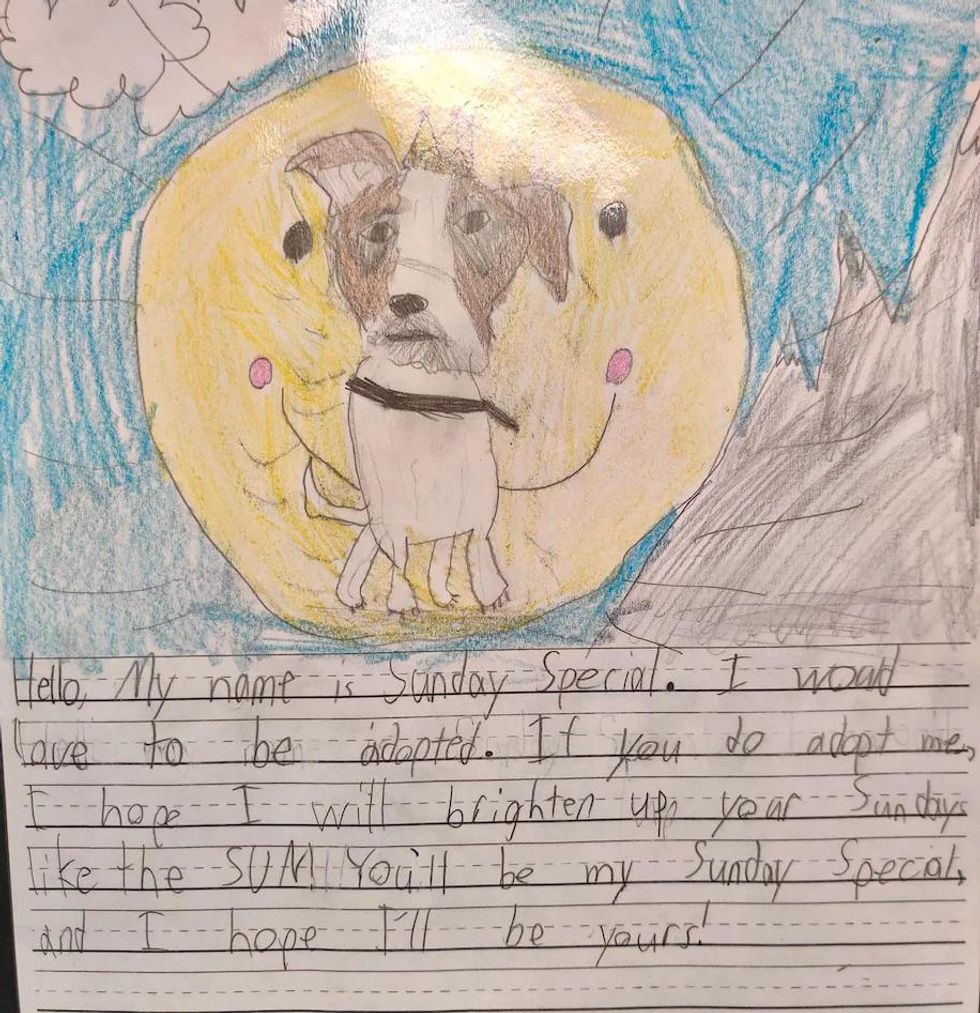 A letter written to hang on a dog named Sunday's kennel reads: "I would like to be adopted. If you adopt me, I hope that I will illuminate your Sundays like the sun. You'll be my Sunday special, and I hope I'll be yours!" Jones admitted she was surprised at what the kids came up with and that it "hit a chord."
Shelter dogs are always looking for a home that will care for them forever, and that's just one way to make sure they get the families they deserve. If you are considering adding an animal to your family, consider adopting it from a local animal shelter. Maybe you too will be greeted with sweet notes from kiddos helping to facilitate successful adoptions.
From articles on your site
Related articles on the web
[ad_2]
Source link